Intelligent infrastructure for using biogas
Biogas microgrids and stand-alone biogas filling stations
Research Forum
1/2010

Publisher: BMVIT
English, 6 Seiten
Content Description
For biogas to be utilized efficiently and profitably, intelligent infrastructure is required, making it possible to integrate this source of energy into existing energy systems. Alongside feeding treated biogas into the grid, both microgrids to supply settlements and industrial estates, and stand-alone biogas filling stations, have great promise for the future.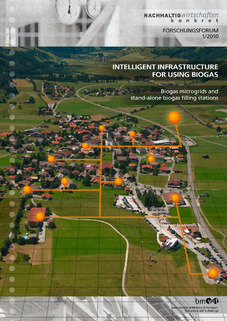 TOPIC
New strategies for utilizing biogas profitably
PROJECT
Models of local gas supply via biogas microgrids
PROJECT
Costing biogas microgrids
PROJECT
Openings for stand-alone biogas filling stations
Figures / Data / Facts
Downloads
Share this page ...
to Start