Technology development for sustainable buildings
Innovative Austrian Products within the "Building of Tomorrow" Subprogram
Research Forum
3/2007

Publisher: BMVIT
English, 6 Seiten
Content Description
The "Building of Tomorrow" subprogram aims to develop marketable building components and concepts for residential, office and commercial buildings (new construction and renovation) and to realize them in demonstration buildings. Three new product developments of window systems, wall elements and sustainable energy generation are presented here.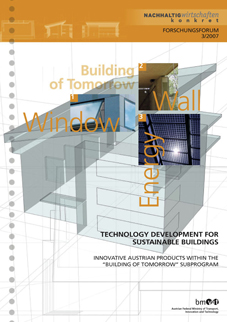 PROJECTS
New products for the building of tomorrow
PROJECT
WALCHFENSTER04
PROJECT
New superinsulated light frame timber constructions
PROJECT
Photovoltaic modules for building integration
FIGURES / DATA / FACTS
Downloads
Share this page ...
to Start