S-House
Innovative Utilisation of Renewable Raw Materials as in the Example of an Office and Exhibition Building for the Project "Building of Tomorrow"
Research Forum
3/2005

Publisher: BMVIT
English, 6 Seiten
Content Description
An innovative building project has resulted with the S-HOUSE, which meets the high standard of energy for the passive house technology and also demonstrates the appropriate use of building materials derived from renewable raw materials. In addition, a large number of suitable solutions have been developed that enable problem-free reusability of all building materials used after completion of their lifespan.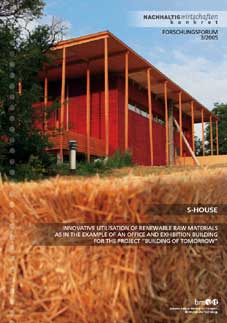 PROJECT
The S-House - Planning and building for the future
RESULTS
The S-House: "Factor 10-building" with innovative solutions
PROJECT
Research & development and implementation in the building concept
PERSPECTIVES
The S-House: Information and exhibition centre
FIGURES / DATA / FACTS
Downloads
Share this page ...
to Start