IEA HPT Annex 55: Comfort and Climate Box – Speeding up market development for integrating heat pumps and storage packages
In the IEA HPT Annex 55, heat pumps with integrated thermal/electrical storage systems for existing buildings that are as close to the market as possible were developed. Furthermore, measures to accelerate market development have been worked out.
Short Description
To significantly increase the share of renewable energy in the building sector (heating and cooling), integrated systems of heat pumps and thermal/electrical storage, so-called Comfort and Climate Boxes (CCBs), are a good option. A CCB should not simply connect individual components. Rather, all components of a CCB should be designed to work together in a modular way. This also requires a control and regulation strategy that is tailored to the CCB and optimally integrated into the CCB.
The goal of Annex 55 is to develop CCBs for existing buildings that are as close to the market as possible on a conceptual level and to develop measures to accelerate market development.
To achieve this goal, the following specific questions were answered nationally and internationally:
What is the current market situation and how are the nine quality criteria of CCBs currently to be evaluated? In which areas is there a need for development and research?
Result: CCBs are widely used and well integrated in the Austrian market, especially in combination with thermal storage. The ease of installation as well as the manufacturers' help for installers and planners in projecting systems have contributed to a rapid diffusion in the residential or single-family house segment. At the moment, a combination with an electric storage system can only be obtained from one of the manufacturers studied. The greatest need for research and development in Austria is currently seen in the area of integral design (system solution from a single source). In addition, there is also a need for research and development in the areas of plug&play, control&monitoring, efficiency and design&dimensioning.
What are the current research projects in the field of CCBs on national and international level?
Result: There are currently a large number of research projects in Austria and internationally in the field of CCBs with a wide variety of questions. As examples of these, four research projects with national participation are mentioned here:
HYBUILD – AIT
HybridHeat4San – TUG
Testing and Evaluation of Passive House Compact Heat Pump Units – UIBK
Energy4buildings – FHB
Currently CCBs cannot be satisfactorily labeled (energy labeling) because existing methods are not sufficient for this purpose. What recommendations can be made for a future assessment of CCBs?
Result: The analysis of relevant standards and results from reference projects showed that there are currently no holistic regulations for CCBs, but that key figures are mostly only determined at the component level. The comparison of existing standards with the results from the projects considered as well as an input-output analysis showed that a dedicated calculation method for key figures of CCBs is not applicable for the time being and requires a separate consideration.
What exactly are the market barriers for CCBs and what recommendations can be derived for the different stakeholders?
RESULT: At the national level, 45 market barriers were identified and assessed by 58 individuals from a wide variety of stakeholder groups. Significant differences in the assessment of these barriers between the largest participating stakeholder groups of research, manufacturers and installers were identified. It follows that stronger networking between these groups would be desirable to better address relevant research questions in the future.
Project Images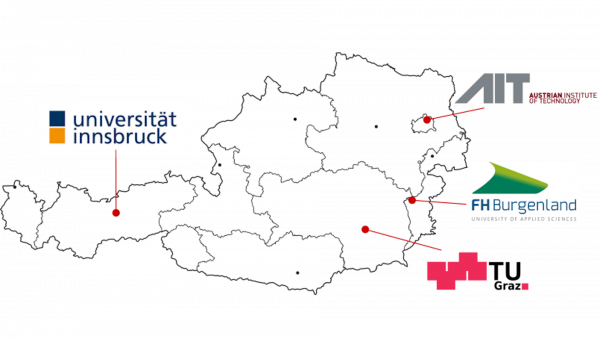 Terms of use: The pictures listed underneath the header "Project Pictures" originate from the projects in the frame of the programmes City of Tomorrow, Building of Tomorrow and the IEA Research Cooperation. They may be used credited for non-commercial purposes under the Creative Commons License Attribution-NonCommercial (CC BY-NC).
Participants
Austria, Belgium, Canada, China, Germany, Italy, Netherlands (Operating Agent), Sweden, Switzerland, Turkey, United Kingdom, United States of America
Contact Address
AIT Austrian Institute of Technology GmbH, Center for Energy
Project manager: Johann Emhofer
Project staff: Therese Guttmann
Giefinggasse 2, 1210 Wien
Tel.: +43 (0) 50550-6061
E-Mail: johann.emhofer@ait.ac.at
Fachhochschule Burgenland GmbH
Project manager: Christian Heschl
Campus 1, 7000 Eisenstadt
Tel.: + 43 5 7705-4121
E-Mail: christian.heschl@fh-burgenland.at
Graz University of Technology, Institute of Thermal Engineering
Project manager: Andreas Heinz
Inffeldgasse 25/B, 8010 Graz
Tel.: +43 (0)316 873-7313
E-Mail: andreas.heinz@tugraz.at
University of Innsbruck, Unit for Energy Efficient Buildings
Project manager: Fabian Ochs
Project staff: Georgios Dermentzis
Tel.: +43 512 507 63603
E-Mail: fabian.ochs@uibk.ac.at