Multifunctional Energy Centres - The Biogas Example
Generating heat, power and engine fuel - projects within the subprogram "Energy systems of tomorrow"
Research Forum
1/2009

Publisher: BMVIT
English, 6 Seiten
Content Description
Expanding a biogas plant into a "multifunctional energy centre" offers a good chance of the facility generating more value locally long-term. Several different R&D projects concerned with the technologies required, the layout of "multifunctional energy centres" and implementation in demonstration projects and pilot regions have been carried out within the "Energy Systems of Tomorrow" subprogram.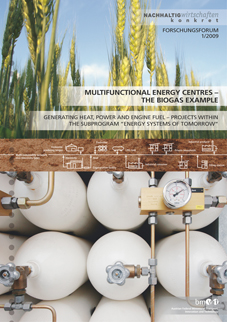 TOPIC
Model Systems for multifunctional Energy Centres
PROJECT
Generating heat, power and engine fuel
The biogas plant in Margarethen am Moos
Factbox: biogas facility in Margarethen am Moos
PROJECT
Processing biogas efficiently with membrane technology
PROJECT
The agricultural raw-material base for producing biogas
Downloads
Share this page ...
to Start