Fuel Cell Systems - The Energy Technology Of The Future?
New Austrian Research and Development Activities Within The Subprograms "Energy Systems of Tomorrow" and "Factory of Tomorrow"
Research Forum
2/2008

Publisher: BMVIT
English, 6 Seiten
Content Description
Fuel cell systems are seen as an energy technology with future potential, given that the technology involved converts energy while keeping resource consumption exceptionally low. Various projects to develop fuel cell technology further and put it to work in Austria have been conducted with support from the subprograms "Energy systems of tomorrow" and "Factory of tomorrow".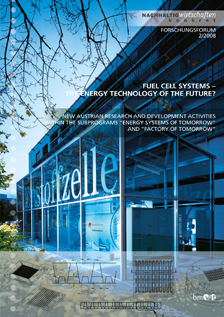 TOPIC
New Research Projects In Fuel Cell Technology
PROJECT
Biovision I & II
PROJECT
Mass-Producing Pem Fuel Cells
PROJECT
Miniaturized Ceramic Components For High-Temperature Fuel Cells
FIGURES / DATA / FACTS
Downloads
Share this page ...
to Start