Distributed power generation and intelligent networks
Research inputs for energy systems of tomorrow
Research Forum
5/2006

Publisher: BMVIT
English, 6 Seiten
Content Description
Für den Betrieb von Netzwerken mit einem hohen Anteil an dezentraler Erzeugung sind innovative Technologien und Konzepte notwendig, insbesondere neue Steuerungs- und Kontrollsysteme. Mit zunehmender Dichte an dezentralen Erzeugungsanlagen treten grundlegende Systemfragen wie Kapazitätsplanung, Stabilität, Schutzstrategien und vor allem die Versorgungsqualität in den Vordergrund.
Die Herausforderung besteht darin, ein effizientes System zu schaffen, das auf flexible Weise alle vorhandenen Ressourcen optimal integriert. Österreich verfügt über weitreichende Erfahrungen und Kompetenz auf diesem Gebiet.
Um dieses Stärkefeld weiter auszubauen, werden im Rahmen der Programmlinie "Energiesysteme der Zukunft" Forschungsprojekte durchgeführt, die sich mit technologischen, wirtschaftlichen und rechtlichen Fragen der Netzeinspeisung aus dezentralen Energieerzeugungseinheiten und dem aktiven Verteilnetzbetrieb sowie der dafür erforderlichen Informations- und Kommunikationstechnologie beschäftigen.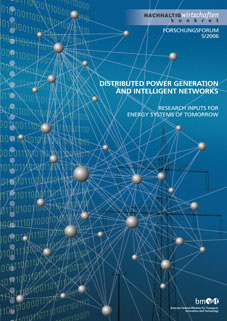 TOPIC
Integration of distributed power generation and optimization of electric energy systems
PROJECT
Power quality in distributed generation based on renewable energy sources
PROJECT
Integral resource optimization network study - Iron study
PROJECT
Economic effects of distributed power generation
Figures / Data / Facts
Downloads
Share this page ...
to Start