Innovative Coolant Lubricant Systems In Metal Cuttin
Optimization of High Speed Cutting Processes Improvement of Environmental and Occupational Safety
Research Forum
3/2006

Publisher: BMVIT
English, 6 Seiten
Content Description
Two research projects within the "Factory of Tomorrow" subprogram aimed to optimize the High Speed Cutting-Technology. In line with sustainable development the projects considered not only the requirements of the production process, but also focused on environmental and occupational safety.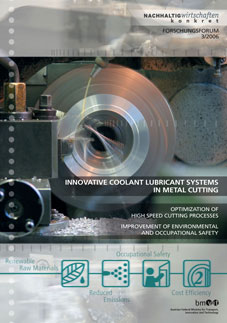 TOPIC
Approaches to sustainable optimization of high speed cutting technologies
PROJECT
Holistic model for the design of hsc processes
PROJECT
Bio-Minimum-Lubrication
PROJECT
Testing in practice and perspectives
FIGURES / DATA / FACTS
Downloads
Share this page ...
to Start