The Sahel Project
Silicate technology for the improvement of water uptake and nutrient storage in marginal soils
Research Forum
1/2006

Publisher: BMVIT
English, 6 Seiten
Content Description
The "Sahel Project" relies on a silicate-based water and nutrient storing technology. The water-storing substrate developed in Austria is a soil improver that helps to significantly increase yields in vegetable crops cultivated in arid areas.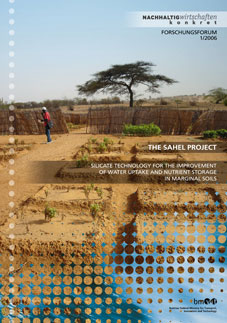 PROJECT
Silicate-based water storing technology for sandy soils in the sahel
RESULTS
Technology development and results from the field tests
PROJECT
Prerequisites for successful implementation
PERSPEKTIVES
Identifying potential applications
FIGURES / DATA / FACTS
Downloads
Share this page ...
to Start