New Corporate Approaches Towards Sustainability In Management Accounting
EMA - Environmental Management Accounting Integrated Management - Cost-/Benefit Check
Research Forum
3/2003

Publisher: BMVIT
English, 6 Seiten
Content Description
The concept of sustainable development requires managerial strategies that also take account of economic, social, and ecological aspects. For this purpose, an organization will need environmental management and environmental accounting systems that provide an integrated perspective of the monetary and material aspects of all environmental-relevant activities of the organization.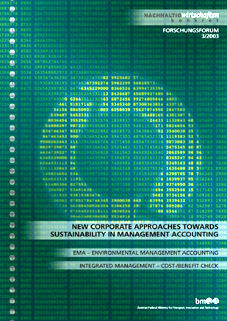 TOPIC
Research on Environmental Management Accounting within the "Fabrik der Zukunft" Subprogram
PROJECT
Environmental Management Accounting - Principles and Procedures
PROJECT
Case Studies on Environmental Cost Accounting and Investment Appraisal
PROJECT
Integrated Management - Cost-/Benefit Check
PERSPEKTIVES
Austria's Successful Participation in the EU-Round Table on CSR (Corporate Social Responsibility)
FIGURES/DATA/FACTS
Downloads
Share this page ...
to Start