Assessing And Planning Sustainable Strategies And Projects
The Project Innovation Matrix - A Tool For Sustainable Regional Development Aspects Of Sustainability In Environmental Management Systems For Enterprises
Research Forum
1/2003

Publisher: BMVIT
English, 6 Seiten
Content Description
Industrial enterprises usually try to implement sustainable development by means of environmental measures within the enterprise; municipalities and regions use special development schemes. New methods facilitate the analysis and assessment of the concrete effects of planned projects and activities by individual actors with a view to sustainable development.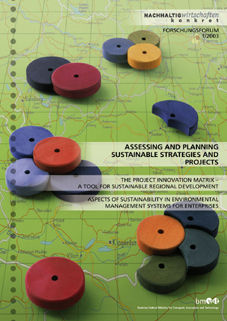 PROJECT
Methods for the analysis and assessment of sustainable projects
PROJECT
Sustainability in the industrial sector
PRACTICE
The project innovation matrix (PIM):
A tool for sustainable regional development
PRACTICE
PIM-application in the "Local Agenda21" process
FIGURES/DATA/FACTS
Downloads
Share this page ...
to Start