Fuel Cells -Energy Technology Of The Future?
Austrian Strategies in the Field of Fuel Cell Research and Technology Development
Research Forum
3/2002

Publisher: BMVIT
English, 6 Seiten
Content Description
Two recent studies document the state of development in Austrian fuel cell research, development, and marketing for stationary and mobile applications.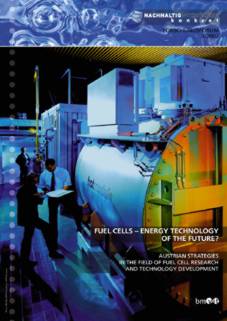 TOPIC
Research, Development, and Marketing in the Field of Fuel Cells
PROJECT
Fuel Cell R&D for Stationary Energy Systems and Portable Small Appliances
PROJECT
Fuel Cells for Mobile Applications
PERSPEKTIVES
Recommendations for Future Strategies
Figures/Data/Facts
Downloads
Share this page ...
to Start