User Behavior And Evaluation Of Sustainable Concepts Of Residentia Buildings
A Focus within the "HAUS DER ZUKUNFT" Subprogram
Research Forum
4/2001

Publisher: BMVIT
English, 6 Seiten
Content Description
Projects focusing on the social factor in energy-conscious building construction. Analysis of user motives and experiences as a basis for future planning.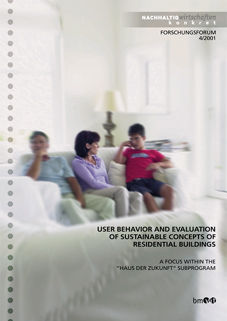 TOPIC
"Haus der Zukunft": A subprogram within the scope of the "Sustainable Economy" stimulation program
User behavior and evaluation of sustainable residential buildings
PROJECTS
Subjective evaluation of residential buildings as criterion for the social acceptance of sustainability
Experience of occupants of pilot and demonstration residential and office buildings
PROJECT
Ecological buildings in practice
PERSPECTIVES
Results and future strategies
Figures/Data/Facts
Downloads
Share this page ...
to Start