DeLight Monitoring - Demo light Impact-Monitoring and metrological investigation of energy-efficient buildings
The Project consists of the metrological examination of ten innovative buildings in terms of energy consumption and user comfort. In addition, building constructors and operators as well as the public are sensitized to the subject of energy-related optimization of building operation. Also, the potentials of energy-related optimization of building operation are shown.
Short Description
Starting point / motivation
Continuous energy and comfort monitoring is an indispensable tool for optimizing building operation.
At present, monitoring is usually only implemented for particularly innovative subsidized properties. It can be assumed that the importance of monitoring for an optimal building operation is currently not sufficiently recognized by building constructors and operators.
Therefore, systematic monitoring in the property branch is not yet common practice. The aim of the project is to give the relevant target groups and the public a greater understanding of the benefits of monitoring activities.
Contents and goals
Carrying out metrological investigations on the energy consumption and comfort parameters of ten innovative, energy-efficient objects
Identification of existing optimization potentials of the examined objects in terms of energy technology, ecology and social aspects
Implementation of the optimization potential by the building owner
Comparison of demo objects
Preparation of learning experiences and recommendations for future building constructors and planners
Dissemination of the results to show the low energy consumption and high comfort of innovative buildings
Raising public awareness for monitoring
Methods
Ten buildings with different energy-related standards such as passive house, plus-energy and low-tech standard as well as highly efficient refurbishments serve as research objects.
The objects cover the areas of office, sports, nursing and hospital facilities as well as large-volume residential buildings. For each research object, a detailed measurement concept is applied, the measurement infrastructure is set up, the energy and comfort data of the buildings are recorded for at least one entire year of operation, and the social impact of the innovative building services is assessed.
In the data analysis actual-plan comparisons, benchmarking and energy-related evaluations are made. From this, optimization potentials can be derived. These serve the building owners and operators as support for the optimization of the building operation.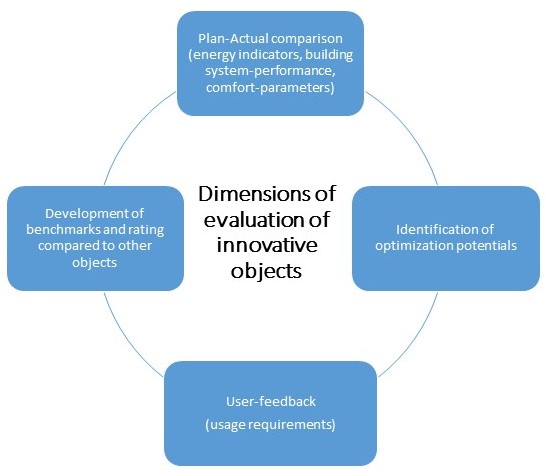 Expected results
It will be demonstrated that even in innovatively planned buildings there are energy-technical, ecological and social optimization potentials. Furthermore, the project will show that the timely use of these potentials can be achieved in cooperation with the building owners and operators.
A publishable study will depict energy and comfort data as well as a comparative assessment of the determined benchmarks. In addition, the study will summarize energy and comfort recommendations for the planning and operation of innovative buildings.
Project Partners
Project management
e7 Energie Markt Analyse GmbH
Project or cooperation partners
EUDT Energie und Umweltdatentreuhand GmbH
Contact Address