DigitalFindetStadt - Platform for digital innovations in the building sector
"Digital Findet Stadt" strengthens the digital innovation power of the Austrian building sector and thus contributes to a significant increase in resource, energy and cost efficiency.
Short Description
Status
ongoing
Starting point / motivation
The planning, construction and operation of buildings and districts will largely be determined by digital transformation. Digital technologies offer great optimization potential for every user, but they also impose massive challenges, such as the interoperability of technologies, the (in-) consistency of models and data chains, the need for new skills and knowledge, and the organization of new processes and communication formats. Only with a new culture of work will it be possible to utilize the full potential of the digital transformation.
Contents and goals
To create added value through digitalization, all stakeholders of the traditionally fragmented building sector must work together. With our motto of using "swarm intelligence", "Digital Findet Stadt" is supporting promising innovation projects with relevant resources, know-how and Austria's largest inter-sectoral partner network. Together, digital building solutions are developed, demonstrated and are anchored at a cultural, organizational and process level.
Driven by our purpose to
Share knowledge
Connect people and projects
Qualify experts
Enable innovations
Create best-practices
we aim to
develop consistent digital process chains and demonstrate them in pilot projects
increase the innovation power of Austrian companies and thus their competitiveness
remove barriers between sub-sectors to make it easier for every participants to access expertise and best practices
Methods
We realise this within 5 functional areas:
Infrastructure for common learning and demonstration of digital innovations and projects, particularly in our "Digital Demonstration Lab" in Aspern Seestadt, Wien
Innovation-Incubator to co-create research and development projects with open access to FTI infrastructure
open-BIM projects initiated and moderated by experts in project-based cooperation's
R&D network hub to support research in digitalization of Smart Cities and Buildings
Academy for active knowledge exchange (seminars, conferences, educational and qualification programs) including professional marketing and communication structures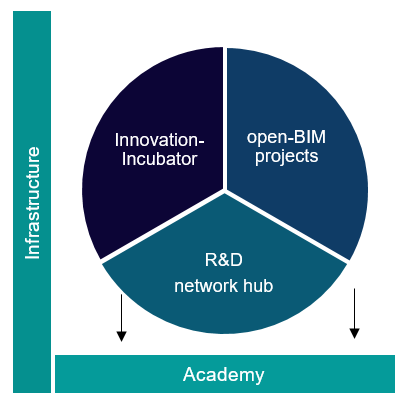 Expected results
A key guiding principle of the non-profit company Digital Findet Stadt GmbH is to ensure the continuity of the digital process chain in the entire building life cycle.
Therefore, the industry associations of
planning (Verband der Ziviltechniker und Ingenieurbetriebe)
construction (Smart Construction Austria GmbH) and
operation (Facility Management Austria)
have joined with the IG-Lebenszyklus Bau and the AIT Austrian Institute of Technology to found Digital Findet Stadt GmbH.
An advisory board of important strategic partners ensures that cross-sectoral issues such as integration of authorities, standardization, nationwide outreach, circular economy and education are considered.
Project Partners
Project management
Digital Findet Stadt GmbH
Contact Address