FORSCHUNGSFORUM 2/2005
THE "SCHIESTLHAUS" IN THE HOCHSCHWAB REGION - ALPINE REFUGE USING PASSIVE HOUSE TECHNOLOGY
Research within the sub-program "Building Of Tomorrow" resulted in a pioneering integrated concept for an energy self-sufficient mountain refuge. Based on a study project realized at the Vienna University of Technology a planning team cooperating with many project partners planned and implemented the new construction of the Schiestlhaus on Mount Hochschwab according to the principles of solar building and passive house standards.
Content Description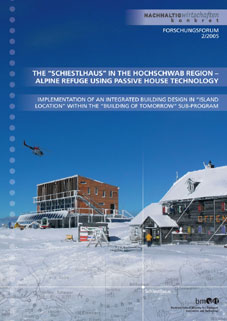 PROJECT
The Schiestlhaus - energy self-sufficient mountain refuge built to passive house standards
RESULTS
Innovative technological solutions for the building
RESULTS
Development of the building concept and execution of construction work
Downloads

The "Schiestlhaus" In The Hochschwab Region - Alpine Refuge Using Passive House Technology

Forschungsforum 2/2005 Herausgeber: BMVIT
Englisch, 6 Seiten, vergriffen

Downloads zur Publikation
Share this page ...
to Start