FORSCHUNGSFORUM 3/2005
S-HOUSE
Innovative Utilisation of Renewable Raw Materials as in the Example of an Office and Exhibition Building for the Project "Building of Tomorrow"
An innovative building project has resulted with the S-HOUSE, which meets the high standard of energy for the passive house technology and also demonstrates the appropriate use of building materials derived from renewable raw materials. In addition, a large number of suitable solutions have been developed that enable problem-free reusability of all building materials used after completion of their lifespan.
Content Description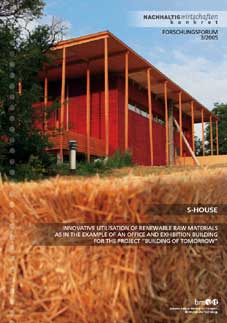 PROJECT
The S-House - Planning and building for the future
RESULTS
The S-House: "Factor 10-building" with innovative solutions
PROJECT
Research & development and implementation in the building concept
PERSPECTIVES
The S-House: Information and exhibition centre
Downloads

S-House

Forschungsforum 3/2005 Herausgeber: BMVIT
Englisch, 6 Seiten, vergriffen

Downloads zur Publikation
Share this page ...
to Start