FORSCHUNGSFORUM 2/2006
FEEDING BIOGAS INTO THE AUSTRIAN NATURAL GAS GRID
Analyses of technological, economic, and legal prerequisites as well as pilot projects within the "energy systems of tomorrow" subprogram
Four research projects within the "Energy Systems of Tomorrow" subprogram focused on the technological, economic, and legal aspects of feeding biogas into the Austrian grid. Researchers developed concrete solutions concerning the issues of prime cost / feedstock, types of process, treatment costs as well as prerequisites for feeding biogas into the public grid and implemented the research results in demonstration projects and pilot plants.
Content Description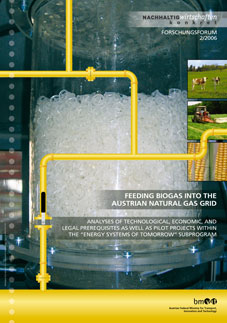 TOPIC
Approaches to an efficient use of the biogas potential in Austria
PROJECT
Feeding biogas into the Austrian public grid
PROJECT
Biogas: grid-coupling and system integration into existing grids
PROJECT
Bio-methane - upgraded biogas for the natural gas grid in Salzburg
PROJECT
Membrane technology for efficient biogas treatment
Downloads

Feeding Biogas Into The Austrian Natural Gas Grid

Forschungsforum 2/2006 Herausgeber: BMVIT
Englisch, 6 Seiten, vergriffen

Downloads zur Publikation
Share this page ...
to Start