FORSCHUNGSFORUM 1/2005
CASCADING OF RENEWABLES
Austrian Research on the Cascading Use of Renewable Raw Materials for the "Factory of Tomorrow"
The design of new products from domestic renewable raw materials and the recycling of waste material from agriculture, respectively, constitute important focal points of research and development, which could open up new opportunities for many regions and enterprises in Austria. New projects originated within the scope of the "Factory of Tomorrow" subprogram analyze potential uses for domestic renewables and also develope concrete models for implementation.in cooperation with enterprises in the region.
Content Description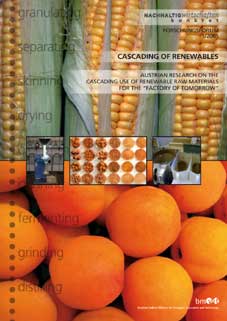 TOPIC
Research Projects on the Cascading Use of Renewables for the "Factory of Tomorrow"
PROJECT
Cascading of Renewables for the "Wellness-Regio"
PROJECT
Extraction of Adsorptive Products from Corn Residues
PRACTICE
NAWARO-CASCADING PILOT
Downloads

Cascading Of Renewables

Forschungsforum 1/2005 Herausgeber: BMVIT
Englisch, 6 Seiten, vergriffen

Downloads zur Publikation
Share this page ...
to Start