FORSCHUNGSFORUM 2/2001
CEPHEUS
COST EFFICIENT PASSIVE HOUSES AS EUROPEAN STANDARDS
Austrian participation in a project within the Thermie-program of the European Comission
The goal of "CEPHEUS" consists in building approximately 250 passive house units in five European countries with in-process scientific backup and measuring programs to evaluate the buildings' operation. Presentation of four Austrian projects.
Content Description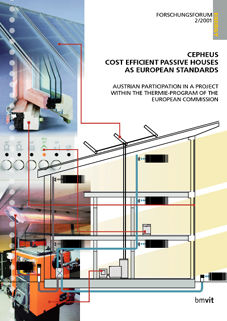 OBJECTIVES
The CEPHEUS-project: Cost-efficient passive houses as european standards
PROJECTS
Passive houses realized within the CEPHEUS Austria project
TOPIC
What makes a building a passive house?
INFORMATION
CEPHEUS Austria: Projects and information
Downloads

Cepheus Cost Efficient Passive Houses As European Standards

Austrian participation in a project within the Thermie-progra of the European Comission
Forschungsforum 2/2001 Herausgeber: BMVIT
Englisch, 6 Seiten, vergriffen

Downloads zur Publikation
Share this page ...
to Start